How Melissa Errico Attended 'Yale by Mail' While She Was on the Les Misérables Tour.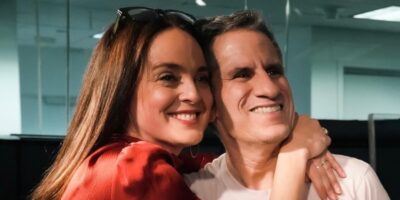 Hello, as usual, from Provincetown! This week I'm staying at the beautiful Brasswood Inn which is directly across the street from the other place I love to stay, The Anchor Inn. I'm here with LaChanze, who has become Broadway's hottest new producer. For rizzle! Both shows that she co-produced last season—Topdog/Underdog and Kimberly Akimbo—won Tony Awards, meaning that she now has three Tony Awards! (She already had one for her unbelievable tour-de-force performance as Celie in The Color Purple).
I will write all about her fabulous concert in my next column because I wanna tell you about the upcoming benefits I'm doing with my husband, James!!! Here we go:
First of all, on September 18 at The Town Hall in NYC, we are bringing back Voice: Stars for Foster Kids. It's for You Gotta Believe, the only organization in NYC specifically to help older foster youth find families.
Here is a clip of our very first one from 2015 that featured Kate Shindle, Eden Espinosa, Tituss Burgess, Saum Eskandani, Rachel Crow, Lilla Crawford, Megan Hilty, Darren Criss, and more!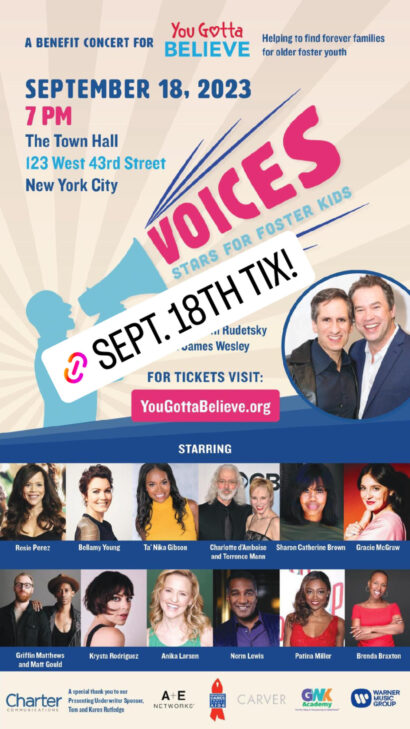 We have so many amazing people lined up this year that we've announced already, and we just added Donna Murphy (who adopted!). Get tix at YouGottaBelieve.org.
So, it's probably no surprise that the Entertainment Community Fund is currently doling out a lot o' cash because of the Writers Guild and SAG/AFTRA strikes. I'm a member of both unions and, boy, do I support the demands. Anyhoo, the strike is affecting the income of so many people and the need for help from the Entertainment Community Fund (rent, food, medicine, etc.) is at a super-high level. So, James and I have upped the amount of Stars in the House shows we're doing. We have a lot scheduled, but this week began with a reunion of one of my favorite films: Camp. That film came out 20 years ago and was written and directed by Todd Graff, whom I first came to love when I heard him singing opposite Liz Callaway on the Baby cast album. Look how amazing they were together!
Todd went to Stage Door Manor, which is a summer camp for obsessed theatre kids, and the movie is all about a camp that's very similar. There are SO MANY phenomenal moments in the film. Here's one of my faves: Anna Kendrick plays a mousy girl who is basically treated as a servant by the blonde, popular girl, played by Alana Allen. Watch this hilarious first moment in the film where their relationship is set up:
P.S. Todd told me that when they would do screenings, he always knew that if the audience laughed at the 'night, Mother reference, it would be a good night!
Halfway through the film, Alana Allen's character tells Anna Kendrick's character to back off, and Anna therefore "rises up" and gets vengeance by giving her food poisoning during the camp's production of Company. Watch as Anna shows up backstage, ready to go on. And I mean ready! She is dressed in full costume and wig! SO hilarious!
The most fun thing about our new Stars in the House episodes is that they now take place at our apartment, so we can have casts perform full group numbers! The cast of Camp, including the brilliantly talented Robin de Jesús (who made his debut in the film), came over to our place and sang multiple songs from the movie. You can still watch it here (and donate)!
NEXT: Stars in the House also raises money for other charities (so far we've raised around $700,000 for NAACP Legal Defense Fund, The Waterkeepers Alliance, Humane Society of NY, and more). So, after chatting with Beth Malone and native Hawaiian Ann Harada, we decided to do a Stars in the House to help the victims of the Maui fire. Because we now love doing sing-thrus of Broadway scores, we thought it would be perfect to get the cast of Avenue Q together to sing that amazing score! Only Natalie Belcon and John Tartaglia can't come. Everyone else is an original cast member! So excited to hear that fabulous score again with all that wonderful harmony. Tune in TONIGHT at at 8PM for Avenue Q on the Youtube channel or at StarsInTheHouse.com.
Last week in Provincetown, I did two shows with the incredible Melissa Errico. What an actress and singer! Holy cow! And so many great career stories! Right after high school, she got admitted to Yale (smarty pants) and, before the Fall semester, she auditioned for a summer stock production of George M slated for Theatre-By-The-Sea (where, P.S., I just did a concert with Beth Leavel). Anyhoo, Melissa was in the hallway after her audition when Richard-Jay Alexander, who was casting Les Misérables spotted her curly locks. He thought she looked like a Cosette and asked her to audition. She came in and he asked her to sing "A Heart Full Of Love," which ends with that pianissimo high B-flat. They loved it. Melissa, however, was not impressed with herself and told them she didn't think it sounded very good. #OwnWorstCriticSyndrome
Well, it was good enough because Richard-Jay cast her on the spot for the national tour of Les Misérables! She then called her parents from a payphone (it was the late 80s, people!) and told them the "wonderful" news that she wasn't going to go to Yale. The amazing news is, she was able to go to Yale! She basically did "online classes" before the internet existed, meaning she was able to do it all by correspondence. Melissa called it "Yale by mail" and it allowed her to tour the country and stay in school. Brava!
Amazingly, there is actually a video of her at 18-years-old hitting that B-flat. So good!
P.S., she has one of my favorite Les Miz onstage mishaps: at the end of the show, Jean Valjean is dying and Cosette comes to comfort him while carrying a tray of glasses. During one performance, Melissa tripped and the glasses fell to the floor. Because they were made of actual glass, they shattered everywhere and had to be removed before the whole cast came on for the finale. So, while she was sweetly singing "Oh, Papa, you're going to live…!", crew members came out and started vacuuming the glass shards. The "good" news is, in order to not make it noticeable (?) the crew members were dressed as French peasants. I'm sure the outfits were so period-appropriate that the audience didn't notice the overwhelming sound of the Dustbusters.
Anyhoo…Melissa sang a Cosette song in our concert, and, because this is typical of me surprising my guests, I segued into "I Dreamed A Dream" because I think she'd be a fabulous Fantine. Melissa was first shocked and then launched into it without any notice or rehearsal and sounded AMAZING! From high soprano to sassy belting. Amazingly, it was filmed from backstage. WATCH!
There were so many highlights in the show including Melissa talking about working with Sondheim and James Lapine during the Kennedy Center production of Sunday In the Park With George. She suggested that Dot be getting ready for her big date with George not by primping and preening in front of a mirror, but by taking a bath. NUDE! It definitely had the artistic muse vibe and they agreed. Instead of the patting her face with a powder puff, she was patting her bod with a washcloth! Brava!
Amazingly, Raúl Esparza was in Provincetown and we convinced him to come onstage and join Melissa for "Move On." Again, unrehearsed! Raúl sat next to me on the piano bench and they were both incredible. Watch, then peace out!