Jessie Mueller Has Always Wanted to Play Christine in Phantom of the Opera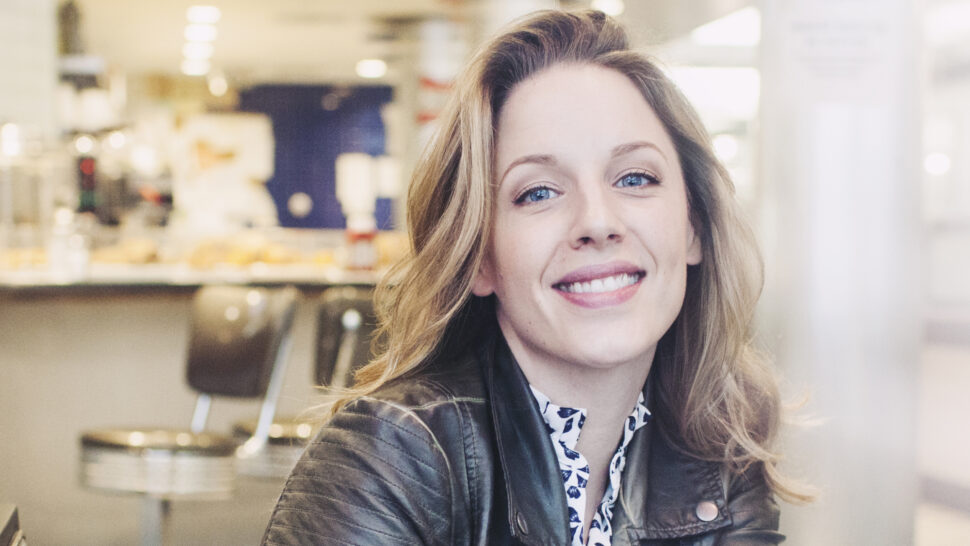 We have a lot to catch up on!
How was everyone's Father's Day?
I'm writing this on the flight home from out west. In case you were wondering, James, Julie, and I haven't made any specific plans yet, but we usually go bowling at Chelsea Piers. Speaking of fathers and bowling, my Dad always reminds me about the time I got "lost" at the bowling alley when I was a kid. Turns out, I was stuck in a bathroom stall. I still don't quite understand what happened, but I remember the door opened in, towards the toilet, and I kept pushing out, towards the sinks. Let's just say I was a smart child in other ways. I got lost a few times, including once at North Woodmere Park. My Dad had just shaved off his mustache, and when an adult saw me wandering around and asked me what my Dad looked like, my amazing description was, "He looks like someone who used to have a mustache." I guess that even back then I was always thinking both "outside the box" and "outside actual common sense."
Back to the present! Next week, I leave for my Broadway Alaska cruise. Immediately after that, I'm performing at the White Plains Performing Arts Center. I'll be deconstructing the brilliance of Barbra Streisand, Billy Porter, Betty Buckley, Gavin Creel, Melba Moore, and so many more. Yes, there will also be the flip side of brilliance, what I call "interesting choices," like Bea Arthur singing (speaking?) "Don't Rain On My Parade" and The Osmonds funking out to Fiddler On The Roof—for rizzle.
Here's a little promo I put together from one of my past appearances:
You can get tickets to my White Plains show here!
This summer, I'm also in Provincetown with Audra McDonald, Mandy Gonzales, Melissa Ericco and more, then in Rhode Island with Tony Award winner Beth Leavel. Look at this amazing photo from my appearance with Beth in Asbury Park.
Beth is such a vibrant performer, and I'm utterly obsessed with her upstaging Sutton Foster's character throughout the song "As We Stumble Along" from The Drowsy Chaperone. Seriously, she's a professional up-stager. She even moves a set piece!
For more of this mad-cap theatre magic, come see us July 31.
OK! Let's talk about the Tony Awards.
I hosted my third Tony Award Watch party which was super fun. One of my guests made me cookies with the Tony Awards on some of them and the cover of my book on others. They almost looked too good to eat!
I was so thrilled for all the winners. First of all, Bonnie Milligan. I flipped out when I saw her in Head Over Heels and was decidedly not happy when she wasn't nominated for a Tony Award. So, I was thrilled that she won for Kimberly Akimbo. I remember talking to her on my Broadway cruise when she told me she was discouraged from pursuing theatre because of her size. Someone had told her that she would be able to get work after she was 40. Someone else told her it would probably be prudent to pursue writing instead. Bonnie knows these comments weren't intended to hurt her; they were from well-meaning people who were assuming that their experience would also be Bonnie's. Amazingly, and thankfully, things are changing. Brava to Bonnie for not listening to those who doubted her and for continuing to push for her place in the spotlight on Broadway.
Here's an Obsessed! I did with her a few years ago that highlighted the amazing riff she did in Head Over Heels. From that moment, I became a giant fan of hers!
I have the same feelings about J. Harrison Ghee and Alex Newell winning Tony Awards. When I saw Some Like It Hot starring J. Harrison Ghee, I actually cried afterwards thinking about the brilliantly talented Billy Porter. Billy was basically begging for jobs for the first 25 years of his career. He was shut out of so many opportunities for how he was perceived and there weren't roles being written for him to show off all of his unbelievable gifts. He was this walking ball of talent that was being completely unused because there were no opportunities for him. I was texting with Billy and, even though I go into blind rage about these historical injustices, he's so not bitter. As a matter of fact, he began our texting exchange by telling me I had to deconstruct Alex Newell's song in Shucked.
Billy texted that he's so proud of our generation for opening door, doors which he is now walking through triumphantly. I'm happy to report that he is, as the kids say, "living his best life." He just completed a giant tour and, not surprisingly, got rave reviews. If you want just a taste of Billy's brilliance, here is my very first online deconstruction.
Take a gander.
Speaking of Tony Award winners, I did three concerts with Jessie Mueller over the weekend. Our first show was at the Wallis in Los Angeles. I was talking to Jessie about her high school roles and told the audience about a fundraiser I do called Not Since High School. As a way of raising money for the arts in NYC high schools, I gather Broadway stars reprise the roles they played during their formative teen years. Separately, I had posted on my Facebook asking people what Jessie should sing during our concert. Someone commented, suggesting "Shy," and writing that he knew she was great in that role because he was in Once Upon a Mattress with her so many years ago when they were seniors in high school.
So, we're at The Wallis, talking about Jessie's early theatre roles. Jessie mentions Once Upon A Mattress, I ask her to sing "Shy." We hear a lone "Whoo!" from the audience. I then shared that one of her former high school classmates had suggested that song on Facebook. I asked if that person was in the audience, and he was! His name is John Zuiker, and Jessie was so happy to see him. We brought him onstage and, even though he is now an art director, I asked him if he still remembered his part from the ensemble. Apparently he did, because we both backed up Jessie. It was so much fun.
Jessie remembered the time they were doing a student matinee of the show, something Jessie had found bizarre as the performers themselves were also students. Anyway, she was performing when she realized her scene partner was late to make their entrance. Jessie told us that she was trying to improv with the another character onstage to cover, but quickly realized that would be impossible. The only other character in the scene was the King, who does not speak!
The good part is, the other actor eventually made it onto the stage. The bad part is, they had turned his mic on at the beginning of the scene. When he realized he was late, everyone in the audience heard the sound of running footsteps mixed accompanied by exclamations of, "Shit!" That performance probably got bigger laughs than when Carol Burnett was starring in it!
After John sang backup, I took this photo of them onstage at The Wallis.
The next day, Jessie and I flew to Vegas to perform concerts at Myron's, which is part of the Smith Center. While onstage, we had been talking about how she had always wanted to play Christine Daaé in Phantom of the Opera. I mentioned the Vegas production of Phantom and asked if anyone in the audience had been in it. We scoured the audience, and saw one man raising his hand. Jessie called on him, but what she didn't know was that I had texted former Vegas Phantom Brent Barrett the week before and asked him to come to the show. He came up on stage and Jessie was shocked.
I hauled out the title song and asked if they wanted to try it. It was amazing. Brent immediately went into his "rowing Christine to his lair" position and Jessie crouched down as if she were in the rowboat. They did the whole number. Jessie went all the way up to the high E! It was shocking and thrilling. I didn't record it, but here she is in my Playbill Obsessed series hitting a high Eb.
Producer Myron Martin took a photo of us taking a photo of ourselves onstage.
I want to end this column mentioning the late, great Sheldon Harnick. I will write more next week, but I loved interviewing him. One of my favorite stories he told me was about his brilliant song "Do You Love Me?" It is such a perfect song. Even though the comedy is situational, and somewhat physical, it is so easy for audience members to identify with both characters. It's also the kind of song I love because it's a journey. The characters begin in one place and end in another. Sheldon told me that when he first heard it performed, he started crying. Someone asked him if he was moved because it reminded him of his parents. He told them that he was moved because it actually didn't remind him of his parents—at all. He was sad because he had an unhappy childhood and when he saw Tevye and Golde interact in the song, he wished his parents could have been more like them.
Watch how wonderful the song is as sung by two Broadway titans: Len Cariou and Tovah Feldshuh.
Then peace out!