How Barbra Streisand Inspired My Concert with Jessie Mueller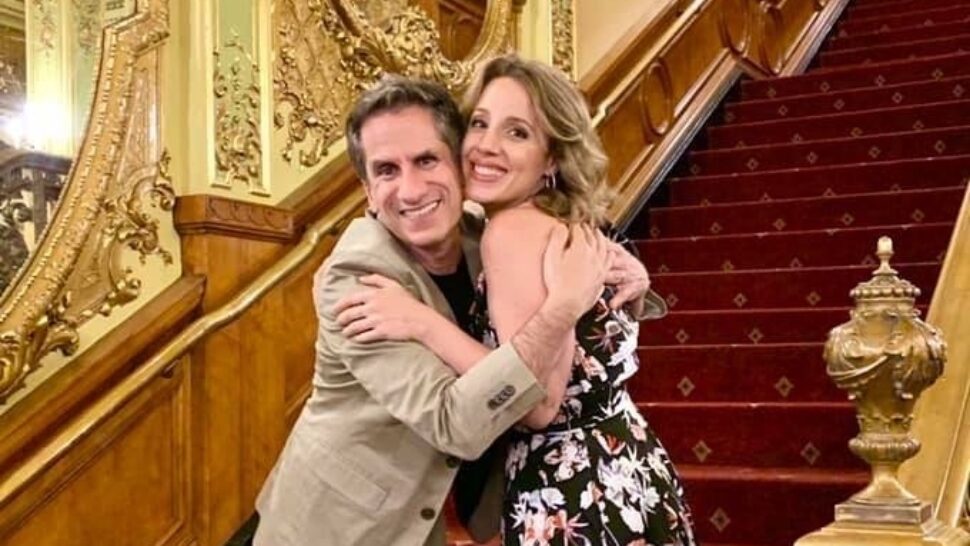 June is busting out all over!
I've always loved this month because it meant the school year was ending. Holy cow, did I hate school. Once I got to college, June meant the beginning of summer stock. Boy, did I love summer stock!
This year, June means travel. June 16 I'm in Los Angeles with Jessie Mueller at The Wallis. June 17 we have two shows in Las Vegas at Myron's in The Smith Center. You can get tickets at SethRudetsky.com.
Jessie and I are fresh off a concert in Provincetown. She was incredible! She is so up for trying anything. We included some fun songs for the very first time. The Little Mermaid film was playing in Provincetown, so Jessie thought we should do either "Part of Your World" or "Poor Unfortunate Souls." We just couldn't decide, so we came prepared and asked the audience to vote. It was very Barbra Streisand's Live Concert At The Forum when she asks the audience to choose between "Second Hand Rose" and "Stoney End." Barbra's audience wound up applauding wildly for "Stoney End." Check out my deconstruction below!
The hilarious Steven Brinberg, who does an entire show as Barbra Streisand, recreates something like that in his show, but the punchline is that his Barbra basically always does whatever she wants. He, as Barbra, tells the audience he will perform either "Second Hand Rose" or "Guava Jelly." Even though the audience always goes bananas for "Guava Jelly," Steve's Barbra, upon hearing the roaring applause, ignores them, saying, "Okay, 'Second Hand Rose' it is."
Here's my deconstruction:
Anyway! Our Provincetown audience voted, though I can't even remember which song won because we wound up doing both! This should come as no surprise, but Jessie's Ursala was amahzing. Jessie never gets to play villains, but she should because she was fabulous. We will definitely be adding this bit to our upcoming shows!
I asked Jessie what roles she's always wanted to play. As it turns out, Christine in The Phantom of the Opera was one of her dream roles. Well, I did play in the orchestra for that show on Broadway off and on for 15 years, so I ran over to piano and started vamping "Think Of Me." Jessie turned out the entire song, including the Raul section and ended in the signature Christine Daaé full bow laying on the floor pose! To top it all off, her high C was incredible!
I was laughing so much as Jessie talked about the history of "You've Got a Friend" in Beautiful. The creators decided it would be a perfect song to end the show because it's so sweet and positive. They thought it would bring the whole theatre together and have the audience singing along. Though all of that is true, it's also a ballad, which is not exactly the perfect follow-up to a rousing, funky, dancing-in-the-aisles song. Jessie said that the whole cast did their usual after-bows song, "I Feel The Earth Move," and everybody in the theatre was and belting and busting a move. The song ended and the crowd erupted. Then, Jessie had walk across the stage to the piano, sit down, and start playing the simple and, quite frankly, somber, piano intro to "You've Got a Friend." It was so not what the crowd wanted after jamming the hell out. Jessie knew right away it was not going to work, realizing she was a singing real buzz kill! Thankfully, the major shift in energy in the room became apparent to the powers-that-be. "You've Got A Friend" found a great place in the middle of the second act.
Right after my Provincetown concert, we had a Memorial Day backyard gathering with an eclectic mix of people, including Josh Malina who's currently on Broadway in Leopoldstadt. The last time he was on Broadway was in A Few Good Men, which was not only the first time he had a bio in an actual Playbill, but also a letter in a Playbill as well.
There used to be a fun column called "Ask Playbill" where the theatre-savvy Playbill staff would answer questions submitted by theatregoers. When Josh was in A Few Good Men, there was also an actor named Joel Malina in The Rothchilds. Someone wrote a letter to Playbill thinking that both actors were the same person, asking how that was possible. It's a gem of a letter. Give it a read!
Okay, now would you be surprised to learn that infamous prankster, Josh, was in fact the letter's author? What a genius combination of a prank and publicity grab, for both shows!
At the Memorial Day gathering, Josh regaled us with further pranks he's pulled including one facilitated by Jimmy Kimmel. Jimmy wrote Josh, offering a computer program he had that could make it seem like an email was being sent from anyone's email address. Josh was in Shonda Rhimes' Scandal at the time and used the program to send an email from a fake "Shonda Rhimes'" email account. He wrote a vague, yet pointed, email to a major producer on Scandal, simply writing, "Not cool."
Well, little did he know, he sent this email while this particular producer was renegotiating her contract. The producer then assumed the "not cool" was a reaction to some negotiation he put forward. Thankfully, Shonda and the producer eventually figured out the email was from Josh and their working relationship survived. Though, by that point, the cast had had it with Josh's pranks and finally planned a prank of their own. They even got the hilarious caper on film.
This week was the birthday of one of Broadway's most fantastic composers, Charles Strouse! I've interviewed him a few times. He has such great stories! Back in the 70s, he was a jingle writer, like Barry Manilow. At one point, he was supposed to produce a jingle for a new drink called Razzle Root Beer. After they recorded the jingle, the advertising agency found out that they couldn't use the word "Razzle" because it infringed upon a copyright. Charles suggested they change the name of the drink to Ramblin' Root Beer. The company went forward with the name change, and the singers re-recorded, substituting "ramblin'" for "razzle." The root beer became a big seller. One commercial for it still on YouTube features different New York scenes, including a shot of Sarah Jessica Parker as Annie.
During one interview, I asked Charles for a story about a particular temperamental star he had worked with. He said that he started teaching her a song from a certain score, but it was too high for her. He started to transpose it, but she said that she wanted to sing it in the key in which he originally wrote it. He explained that he wrote it in that key for his own voice, so he could sing it at backers' auditions. She said that there must have been a musical reason he chose that key, insisting the key choice must have "meant something." He assured her it did not, and he had no problem transposing it, so it was more comfortable for her range. The conversation went back and forth like that until she threw a chair at him! At least there was a lofty reason for her use of physical violence. Artists, make sure you share your artistic vision, and stay true to it, or else you're getting the chair!
Charles has written so many amazing songs. Here's one of my favorites, the title song from Rags. It also happens to coincide with one of my favorite Tony Award performances.
Judy Kuhn performs here, and this was the same year she was starring in Les Misérables as Cosette. The Les Miz co-director John Caird only knew her as a soprano. When he heard her belt "Rags," he flipped out, realizing she'd be amazing in his upcoming musical, Chess. That's how she got the gig!
Watch, enjoy, then peace out!