Why My Vocal Arrangements are Left Out of Broadway-Bound Harmony (It's OK, Though!)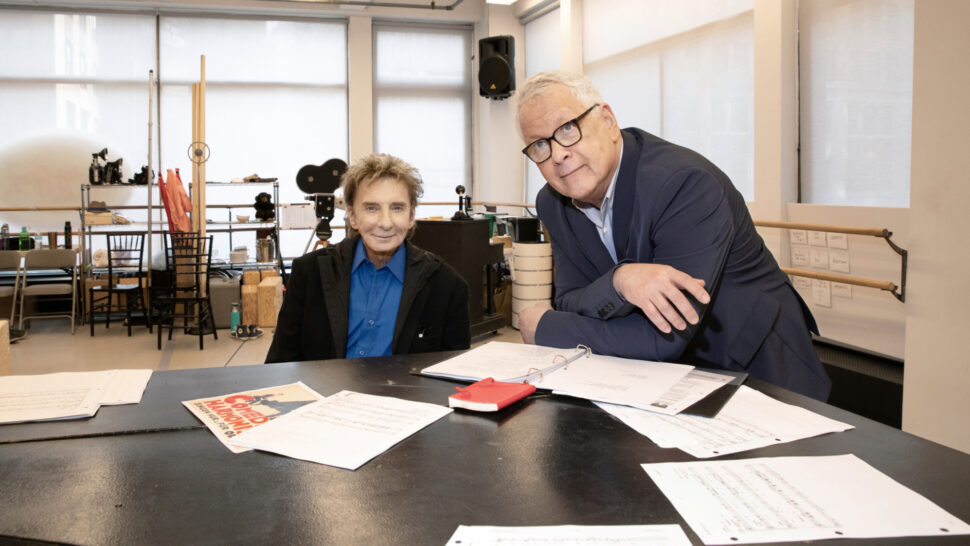 I'm a-travelin' to a city near you!
I have a plethora of concerts coming up. Four of them are with Jessie Mueller. We're going to be at the Lyric Stage in Dallas, TX on Tuesday May 22, at Town Hall in Provincetown May 29, in L.A. at The Wallis June 16, and finally at Myron's in Las Vegas June 17. For rizzle!
I have also just booked a concert at the Axelrod Performing Arts Center in Asbury Park, New Jersey with the brilliant Tony Award winner Beth Leavel. To top it all off, Seth's Big Fat Broadway Show is coming to the White Plains Performing Arts Center July 8.
Come see a show! Why not see them all? Tickets for all of the above are available at my website.
To tempt you into buying a ticket to one of my many shows with Jessie, I thought about including a video of her amazing voice with this column. Instead, I am including a video of Bagel! I'm going to tie this into Jessie, promise.
Jessie and I did a livestream concert from my apartment, with Bagel watching patiently. As if on cue, the very end of "What Baking Can Do," from Waitress, Bagel added an amazing button with his signature bark. He really had it "in the pocket," as they say!
I might have actually had two intentions in sharing this Bagel video today. Not only does it show off Jessie's fabulous tone, but it is a great example of how much joy and music a doggie can bring to your life. Maybe it could incentivize you to adopt a dog needing a home.
We adopted Bagel, who we later found out is a purebred Beagle, from Animal Care Center in December 2015 after adopting Mandy, our sweet mutt, the year before. This Friday, Animal Care Center is having their annual gala. I'm going to be performing with Tony winner Lauren Patten. Come for the belting, stay for helping helpless doggies and kitties. You never know. You could also adopt a furry friend with fantastic musical timing. You can purchase tickets or donate here.
Mandy and Bagel fit in even more perfectly to the main theme of this week's column. Though we are all a chatter about this year's Tony Awards, I'm already looking to the next! OK, my prediction for a nominee for Best Musical next Tony season, and the subject of today's column, is Harmony. Talk about finally arriving to the Broadway stage!
Barry Manilow and Bruce Sussman have been my friends since the 1990s when I first worked on Harmony. Barry and Bruce recently came on Seth Speaks, my SiriusXM show, and we had a fantastic chat. Our full conversation will air this weekend, so make sure to tune in!
Barry and I have two very important things in common. First, we are both Jewish piano players. Second, our first love was The Most Happy Fella. When I was a kid, we only had one record player in my house, so whatever my parents wanted to listen to, I had to listen to it, too. It was not like today where everyone listens to their own music using headphones. The album I most connected with was The Most Happy Fella by Frank Loesser. It is so great. Not only is the music and singing incredible, but it also contains some mature themes not always seen in musicals. There's an accidental pregnancy, and the shame and forgiveness associated with that.
Quick side note: Do you remember the I Love Lucy episode where Lucy, Ricky, Ethel, and Fred only have two tickets to a Broadway show? Their solution to this problem is having one couple watch each act. The part of that episode you may not remember is the show was The Most Happy Fella. As an extra tidbit, they picked that show as the one in question because Lucille Ball herself was an investor. I remember watching the episode in the 70s and praying the camera would pan to the stage and show the performers. Instead, it stayed focused on the Lucy cast. At least they played the cast album! #StillDevastated
In looking for some clips, I found a 12-minute segment from The Ed Sullivan Show. It's amazing!
My love for The Most Happy Fella ran so deep that I would sing along as young as three years old! Here is my deconstruction of the musical.
When I found out that Barry also loved The Most Happy Fella as a kid, I was so happy. Instead of singing along with Susan Johnson like I did, he learned how to play the overture on the accordion. Wowza! Barry claims every Jewish kid in Brooklyn had to learn accordion when he was growing up. Let me clearly state that I'm very thankful I didn't grow up in Brooklyn.
By the 1970s, Barry was arranging and playing for Bette Midler (on the piano, not the accordion), writing amazing jingles, and beginning his solo recording career. Somehow, while working on all of those things, he found time to write a musical. After meeting Bruce through BMI's Lehman Engel Musical Theatre workshop, Barry knew he'd be a perfect collaborator. Just as they were getting started, one of the songs from Barry's sophomore album took off, so much so that Barry became an international pop star. Now all of his time was spoken for. No more time for writing musicals. He had to write more pop music!
The song that sent Barry to superstardom was "Mandy." As he and Bruce tried to switch gears from writing musical theatre songs to writing pop, Bruce's Broadway instincts kept guiding their lyrics. His writing was less, "Why don't you love me, baby?" and more narrative-driven. Case in point: "Copacabana," a song with three main characters and a tragic three-act structure. You just don't hear that on the radio anymore!
Barry and Bruce told me that their producer, titan Clive Davis, hated "Copacabana," and didn't want it released as a single. The public, however, loved it. Radio DJs were getting relentless requests to put it on the air. The requests for it were so fervent that they were "forced," in Bruce's words, to release it as a single. The song was so popular that by the time the single came out, instead of debuting in 50, 60, or 70th place like most singles, it debuted in the top 20. Many pop songs followed.
In the 1990s, Barry and Bruce began working on their original Broadway musical, Harmony, inspired by a documentary Bruce saw about a group of German Jewish singers with a wicked sense of humor called Comedian Harmonists. The group became world famous, even playing Carnegie Hall. However, as they rose to popularity as the Nazi regime rose to power, they were forced to disband and faded into obscurity.
My involvement first began when I was asked to assist Joseph Thalken and Ted Sperling, the music directors of the mid-90s reading. At the time, the leader of the Comedian Harmonists, called Rabbi, was played by Danny Burstein. The character's wife, Mary, was played by Danny's soon-to-be-in-real-life wife, Rebecca Luker. In fact, that reading is where they met.
The La Jolla Playhouse produced a production of Harmony following the reading with Joseph as the music director and me as his assistant. I was thrilled when Barry asked me if I could write some of the vocal arrangements, which weren't quite finished. I couldn't believe it. Barry Manilow! My fandom had gone way back. In fact, when I was in high school, I used to call my friend Debra Karp, who was a huge Barry fan too, and play and sing Barry songs for her over the phone.
In working on the vocal arrangements for Harmony, I harmonized some of the Overture and the big "Hungarian Rhapsody" song that the Harmonists sang in Act Two. Here's a pic of me with some of the boys back then doing one of the dance steps from that production.
Sadly, my good friend Jason Opsahl, who played the high tenor, Lesh, isn't in the photo. During rehearsals, he was suddenly diagnosed with a brain tumor. The boys and I took this photo to cheer him up while he was in the hospital. Thankfully, Jason got well enough to return to Broadway in The Full Monty in 2000. Sadly, the tumor did eventually claim his life in 2002. I tried to find clips of Jason singing but couldn't find any online. My plan is to dig deep into my concert archive to see if I can find some clips. If I find anything, I'll upload it to YouTube.
My YouTube dive wasn't a total bust. When The Full Monty performed on the Tony Awards, the producers generously let the entire cast perform the number, including all the understudies. You'll notice that's why there are two boys playing Patrick Wilson's son. At around the 2 minute 53 second mark, there's a shot of Jason, who understudied Jason Danieley and Romain Frugé, in the audience yelling "the whole world is watching!" He's not singing, but you can hear his amazing natural vocal placement.
A few years after La Jolla, Harmony was finally slated for Broadway. Amazingly, for me, Barry and Bruce hired me to be the vocal arranger. Again, I was so thrilled. To work on the show, with the breathtaking score, was just a dream come true. Barry is so skilled at creating beautiful melodies. When I asked him how he developed that skill, he told me it was from, of all things, writing jingles. Whenever the assignment was to write very short melodies that would immediately be catchy, he was always able to do it. Have you heard this wonderful jingle medley?
So, there I was, in the early 2000s, writing vocal arrangements for the Broadway-bound Harmony with David Chase as music director. This was a great cast. Brian d'Arcy James and Kate Baldwin were cast as Rabbi and his wife. They were both wonderful.
Well, right before we were leaving for our out-of-town tryout in Philadelphia, we were called into a meeting with the entire company. Shockingly, we were all told that the producer hadn't raised the full funds, so the show was cancelled. Like, completely cancelled. It was not going to Philadelphia, and definitely was not going to Broadway. This was a nachtmare.
The entire debacle with the producer went to court. After some time, all of the legal business was behind them and Barry and Bruce had the green light to develop Harmony once more. They called me and asked if I had ever been paid for the work I did on the vocal arrangements for the Philadelphia production. I told them not to worry as I had been paid in full. Turns out, that was not the answer they wanted. They informed me, sadly, that part of the Harmony settlement was that anyone who had been paid by that production could no longer work on the show ever again. Talk about a tragic #TwistEnding.
I don't get to have my arrangements in this Broadway production, but I don't care. My happiness for Barry and Bruce outweighs any sadness about that. The show deserves to be on Broadway. Now, it finally will be. I'm expecting a hit. It had a sold-out run last year Off-Broadway and was a New York Times Critic's Pick. #YasQueenEsther
I'll close the column with this stunning song from the show, a duet between two women. As the cast album isn't out yet, I'll leave you with Barry's version. The initial melody is based on Chopin and with lyrics from a line of the Biblical Ruth's: "Where you go, I will go." I don't want to ruin the plot and say why the song is sung, so you'll have to make sure you buy a ticket to see it on Broadway. Listen, enjoy, and go see Harmony when it finally takes the stage.
Oh, I mentioned my doggies before and said they play a part in the story of Harmony. Turns out, Barry Manilow also had a beagle named Bagel. His first hit song, Mandy, was the inspiration for our other pup. What are the chances! Here is a photo of Barry, Bruce, me, Mandy, and Bagel.
Peace out! ✌️