Which Phantom Record Did Ramin Karimloo Set Out to Break?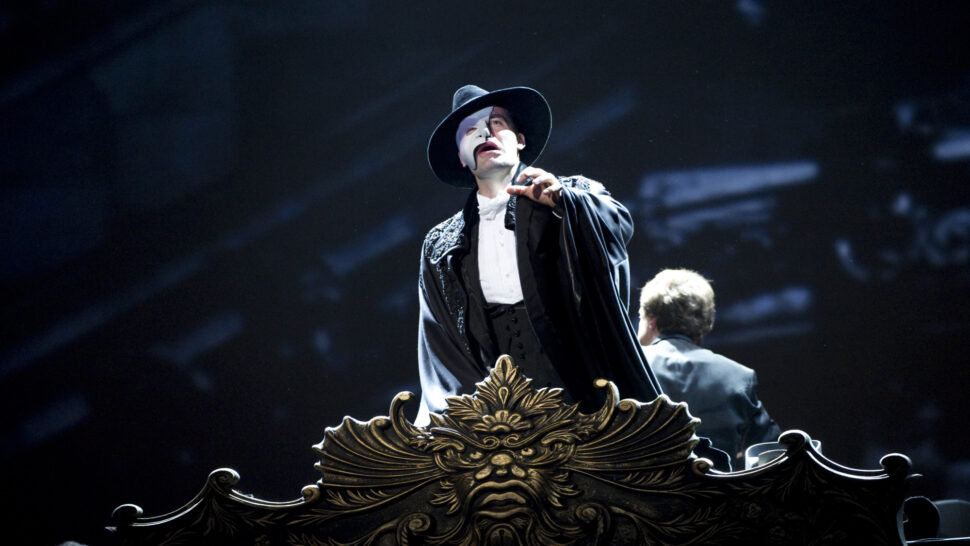 It's the end of an era! The Phantom Of The Opera has closed on Broadway. For the past few weeks, everyone has been sharing their experiences with ye olde Phantom. Count me in! 
First of all, I'm an alum. Phantom was one of the first shows on which I subbed in the orchestra. This was for the wonderful Norman Weiss, who was keyboard one and cover for the conductor at the time. Over time, I also began covering for keyboard two, David Lai. 
I loved playing Phantom because, and this may come as a shock, it provided the only real piano I got to play on Broadway! Even when I played Ragtime, which has a ton of piano solos, I played an electric piano. Even though electric pianos sound incredible through sound systems, they don't quite feel the same. Those exposed solos in "Think of Me" and after "All I Ask of You" were musical moments I loved playing. Of course, I also played the electric keyboard used for organ solos, which was super fun because that organ sound was the score's signature. 
Phantom had an open pit, meaning I could look up and see the audience, which was typically absolutely thrilling except on rare occasions that being without cover backfired. I share one such instance in the first volume of my book, Seth's Broadway Diary. Back when I was promoting it, Entertainment Weekly asked me to write about ten Broadway disasters I had experienced. This story was a must share then and it's even more timely now! Here we go. 
So, there's a moment in Act One after "Music Of The Night" in which Christine rips the mask off of the Phantom. Before you get mad at me, sure, spoiler alert, but it's been running since 1987! Where have you been? Anyway!
One night, just after that moment, I heard something clink and clank as it fell into the pit. Turns out, the mask had fallen off the stage. The Phantom's mask had landed right next to me. What do I do, I thought. Well, what would you do? I put it on, of course! 
Suddenly, I'm playing the organ part in the pit giving full Phantom phantasy. It was so cool. The entire time, I was trying to get a laugh out of the viola section, which is notoriously straight-laced. In their typical fashion, they just stared at me. So disappointing!
Finally, I look up and see that David Lai is frantically telling me to take the mask off. Hmph! What was the big deal, you ask? As it turns out, the show masks are not made of plastic like the ones you can buy in stores. No, these are made of pliable material that molds specifically to the current Phantom's face. When I put it on, I accidentally altered the mold from the face of the actor playing the Phantom to the shape of my face. Ruined! 
I'm not saying I was responsible for the show closing, but I'm also not saying I'm not responsible for the show closing.
I've chatted so many times with the lovely Howard McGillin who has played the role of the Phantom more than any other actor. Howard told me that something as seemingly innocuous as a cab driving by the theatre can wreak havoc on the technology that operates the show. Why is that? Radio frequency! Anything that might disrupt that which is used for the show can cause major disasters. 
More than once, the boat the Phantom uses to take Christine to his underground lair has stopped working mid-performance. When that happened, the only way off stage was for the Phantom to hop out and push it himself! Not only was it bizarre for audiences to see the Phantom pushing a boat across the stage while singing, but it was even more crazy that the Phantom was able to walk on water. Or was it?
George Lee Andrews once shared a story with me about being cast as one of the opera managers, Monsieur Firmin. About two years into the run, he got the role of Firmin, but continued to understudy the other part, Monsieur André. George loved performing both roles, and got a nice chunk o' change every time he went on for the other. 
George said that after a few years of him performing, producer Cameron Mackintosh wanted him to depart the production because it is not customary for actors to occupy long-running roles in the West End. Director Hal Prince, however, really wanted to keep him in the show. 
George and Hal had good rapport, having first worked together in A Little Night Music. George played Frid the Butler on Broadway, going on to play the lead, Frederick, in the national tour. It was Hal who figured out a way to solve the problem of George playing the same role for "too long," keeping him in the show.
After 11 years of George as Monsieur Firmin, Hal switched him full-time to the other opera manager, Monsieur André! However, George wasn't asked to understudy Firmin. Bye bye, cash!
George estimates he lost around $30,000 in extra income each year only performing one track, but he continued playing that role for another 11 years. After some time, he and another cast member got summoned to the general manager's office. Yay! George was very excited because he thought they would have a conversation about London's Phantom Of The Opera anniversary concert. He assumed they were going to approach it like the Les Miserables had, inviting original cast members to perform. They arrived at the general manager's office and George waited to be asked if he would go to England. Instead, they were both told they were being fired! Now that's a twist ending!
George said he was very upset for about an hour. Then he let it all go and enjoyed his final performances. It wasn't long before George was back on stage, as he was cast in the revival Evita a mere three weeks later!
Ramin Karimloo, who played the Phantom in London, on Broadway, and in the musical's sequel Love Never Dies, told me that, growing up in Canada, he didn't know much about musicals. When he was in junior high, his class took a trip to see Phantom, and because it was an educational matinee, he and his classmates got to go on stage and learn about making live theatre. 
For Ramin, the educators did an example of live sound. Ramin was told to say, "I'm here!" They recorded his voice, and demonstrated how his voice could be piped through various speakers around the theatre. Ramin's mind was blown, especially once he saw the show and heard that effect used with the Phantom. The mystery, the music, the emotion—he was sold. Colm Wilkinson's performance so entranced him that he became completely obsessed with the role, telling his friend that not only would he play the Phantom one day, but he would also be the youngest person to do so.
Well, cut to Ramin in London, in his dressing room about to go onstage as the youngest person to play the role. Seriously! Talk about manifesting. Before taking the stage, he called that same childhood friend and held the phone so he could hear the overture. Such a magical moment. 
Here's a video Ramin and I filmed where he really showcases his high notes and exceptional vowel placement. 
I did film a video breaking down my experience in that pit. Check it out!
Enjoy, and peace out!