What NaTasha Yvette Williams' First Broadway Role Really Cost Her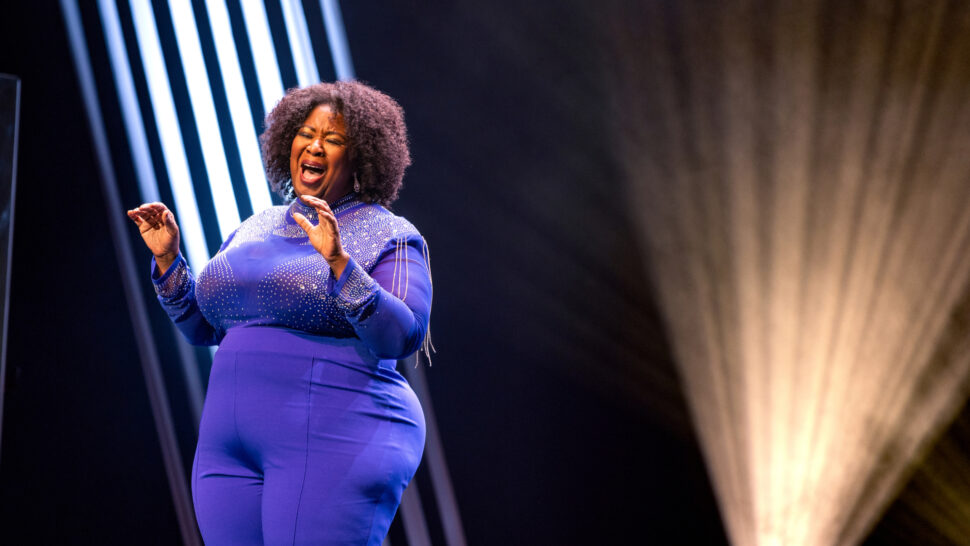 Hello from NYC where we finally have some beautiful spring weather! 
I've just gotten home from SiriusXM and am enjoying my backyard. On Seth Speaks this week, I had the fabulous Lindsay Lavin. Lindsay spoke about her upcoming all-Beatles show happening this Sunday at The Cutting Room. If you cannot make her show in person, check it out on streaming! Either way, get thee to her Instagram @LindsLav. 
In my search for some clips of her singing, I remembered we had done a performance on a cruise with the equally fabulous Lindsay Mendez. Two Lindsays? What could be better? It's so good. Watch!
Also on Seth Speaks this week was NaTasha Yvette Williams, one of the current stars of Broadway's Some Like it Hot. 
I first saw NaTasha perform in the national tour of Xanadu and thought she was hilarious! Her voice is incredible. We became such pals. You may remember her from the video that James and I put together during Georgia's runoff election a few years ago. NaTasha is the one who does the amazing high B-flat while belting "Georgia." (That moment happens around 3:50). Definitely watch the whole thing for the brilliance of Billy Porter, Ben Platt, Leslie Uggams, Vanessa Williams, Raúl Esparza, Audra McDonald, Santino Fontana, and Keala Settle, as well as the original cast of Rent and some Hamilton stars.
NaTasha and I got to talking about her career. She told me when she first moved to New York City, she initially did tour after tour. She started in Xanadu, then did Cinderella, All Shook Up, Seussical, and many more. It was a lot of touring. Her time on the road finally came to an end at the advice of Capathia Jenkins, who said she didn't feel NaTasha was ever around New York long enough to get cast in a Broadway show. NaTasha auditioned to replace the gospel singer in The Color Purple, then running on Broadway, which forced her to have to make a choice between the steady stream of tour gigs and her ultimate dream, starring on Broadway! 
The callback for The Color Purple came while she was in Milwaukee for All Shook Up. NaTasha was so committed to attending the callback that she planned to fly from Milwaukee to NYC, attend the callback, and then turn right around and get back to the midwest in time for that afternoon's rehearsal.
Everything that morning went smoothly, so she was feeling optimistic about getting there and back in such a short time. Her callback went so well that the director, Gary Griffin, gave her a hug after she finished singing. NaTasha felt great. Anything was possible! She would pull this off. Well, Mother Nature had other plans. By the time she got to LaGuardia, it was raining so hard that her flight back to Milwaukee was delayed. First an hour, then two. Oh no. 
Thinking quickly, NaTasha called the good people at All Shook Up to tell them she wouldn't be able to make it to rehearsal. Not wanting to tell them where she was specifically, but also not wanting to make things worse by flat out lying, she simply said she was delayed "at the airport." She hoped they'd just assume she was stuck picking up friends or family. Well, time kept ticking by and she was no closer to boarding her plane. It soon became apparent she would not make it back in time for that evening's show. 
Finally, NaTasha figured she had to come clean and admit to the powers that be that not only would she be missing the performance, but she was also stuck at LaGuardia. Yikes! She was told that the company would need a rehearsal with her understudy, Aurelia Williams, and that NaTasha would have to pay for it. Ugh. 
Amazingly, NaTasha made it back in time for the show, well, back in time to watch the show that is, from the audience. Lucky for everyone, it was a great show! 
Watch my deconstruction of All Shook Up here. 
After the performance, a producer came up and asked to speak to NaTasha. He asked where she had been, and she told him that she had to do something important. She was stuck in another situation that day where she didn't want to lie, but was afraid to completely fess up! The producer reiterated that she'd have to pay for the understudy rehearsal, which could be thousands of dollars. NaTasha accepted and went back to performing her role on tour as if nothing had happened. 
A few days later, NaTasha received the call from her agent she had been dreading— the call that would tell her exactly how much she owed the company for that rehearsal. When NaTasha picked up the phone, her agent asked if she was sitting down. NaTasha sat down, fearing how many thousands of dollars might be on the line here. To her surprise, her agent said the call was in regards to the callback she'd had for The Color Purple. NaTasha had been cast. She was going to make her Broadway debut!
On top of which, her agent had re-read her contract for All Shook Up. The contract stated she was only allowed to leave the tour for a principle role on Broadway (check) after January 4. Rehearsals would begin on January 6 (check). Amazing! 
As to the fee for the rehearsal, NaTasha says she ended up owing about $1,500. Not bad! 
Here is a video of NaTasha on my radio show singing up a storm. 
Get thee to see NaTasha's fabulous performance in Some Like It Hot on Broadway right now! She gets to sing an incredible title song by duo Marc Shaiman and Scott Wittman.
Sierra Boggess found herself in the middle of a similar travel debacle years ago while she was touring with Les Misérables. While on a stop in D.C., Sierra took a train to NYC to audition for the Vegas production of Phantom. After her audition, Sierra got on the train back to D.C. with plenty of time (NaTasha-style). Tragically, someone jumped in front of the train and was killed, delaying her train. 
As she was telling me the story, I told her that her consternation reminded me of Tracy in Hairspray blaming her lateness on a "stupid bus crash." Sierra had never called out of a show before and was beginning to panic. Sierra called her stage manager, who was super nice, to give a heads up. Despite getting there very late, Sierra still arrived in time to go on. Now that's how effing long Les Miz is! Cosette hadn't even made her entrance yet. 
Sierra wound up getting a callback for the Vegas Phantom, and considers that her Broadway debut as it was onstage at an actual Broadway theatre. Not only that, but also in the audience was director Hal Prince, choreographer Gillian Lynne, and composer Andrew Lloyd Webber. Her callback was at 9:30am and by 11:00am her agent had called to say she had gotten the part! She was Christine. 
Okay, so what did we learn today? I learned that skipping out on a national tour to audition for another show and having transportation trouble on the way back is a surefire method for getting the gig. Kidding!
Watch this clip of Sierra singing her big Les Misérables solo here!
In other news, I'm now in the process of recording the audio version of Musical Theatre for Dummies.  I've been live streaming the whole thing, so you can watch the process on my Instagram @SethRudetsky. 
Sure, you can wait to listen the audio book when it's available, but you'd miss your chance to watch me read aloud, interrupting myself about every two minutes when I've made a mistake to yell, "Fuck!" Fun? You decide!
For those of you anxious to give it a read, the book is available here.
Peace out! ✌🏻