Why Carol Burnett Wants a Broadway Theatre to Be Named After Hal Prince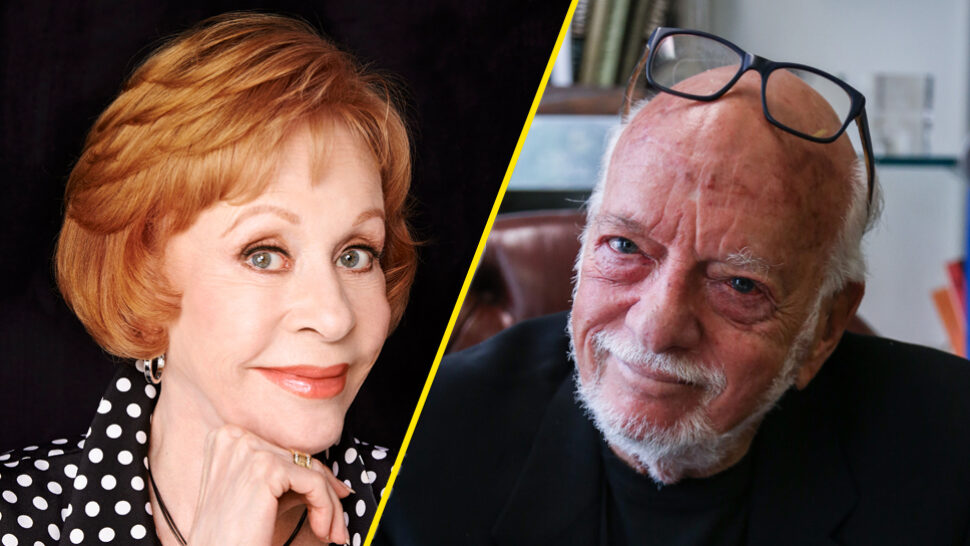 My newest book, Musical Theatre For Dummies is coming out today, March 8th! 
Now, I'm not saying I missed a ton of deadlines, but I will say that it was supposed to be out for "the holidays." I decided it is out for the holidays: Passover and Easter! 
I have to confess. That is a repurposed joke from the hilarious Jackie Hoffman. She was doing a Broadway show and the producers promised it would last through the holidays. Cut to the show closing in October. Ever the glass-half-full thinker, Jackie decided that the holidays the producers were referring were Rosh Hashanah and Yom Kippur. 
I will write more about the book after the official release but suffice it to say, you can order it wherever you order books or get thee to a bookstore and buy it there. What's even more amazing is that Amazon has it as number one*! 
*In the very specific "New Releases from the Musical Genre" category. I'll take it!
Though the cruise ended a few weeks ago, I wanted to write about one more fun thing that happened while we were on the trip. When we docked in Cozumel, I went out to dinner with James, Rachel Bay Jones, Rachel's brother, and Judy Kuhn. The restaurant is called Pancho's Backyard and it is so good. 
After a delicious meal, I was paying the bill and was softly humming something. The waitress asked, "Tú cantas?" and because of my three years of high school Spanish, I knew she was asking if I sang. I told her I was a musician and was about to brag about all the Broadway stars around the table with me, but thought she wouldn't know their credits. Then, I realized that movies are truly universal, so I told her I was here with an amazing singer name Judy Kuhn, the singing voice of Pocahontas. 
Our waitress flipped out, told the other waitresses, and soon they all wanted a photo with Judy. I knew Judy would oblige, so I walked them to the table. To my surprise, Judy wasn't at the table, having snuck away to the bathroom. The wait staff didn't know what Judy looked like, so they started flocking towards Rachel Bay Jones, thinking she was the woman I had pointed out to them. I blocked them and started yelling jokingly, "Not her! She's not famous!" 
Now, while they may not have known Rachel is a Tony Award winner for her amazing performance in Dear Evan Hansen, they might know her television credits. I asked them if they recognized her from the shows The Good Doctor and Young Sheldon. Again, they flipped out. Every single person wanted a solo shot with Rachel. As they were finishing up, Judy came back to the table and the round-robin of photos with every single waitress began again. Judy and Rachel could not be nicer! 
While we are on the topic of the incredible Rachel Bay Jones, James and I had a rendezvous with her after the cruise.
I was rehearsing for a Stars In The House dedicated to the Broadway Green Alliance when my cell phone rang. On the other end of the line, I heard an unmistakeable voice say, "Seth, it's Carol Burnett." For reals. 
I tried to keep my cool as Carol told me the reason for her call. Carol told me she felt that Harold Prince should have a Broadway theatre named after him. She wanted to discuss her social media campaign, which she began with Eila Mell, #TheMajesticIsFitForAPrince with me. 
Carol asked if she could come on my SiriusXM radio show to talk about her mission and I was so honored she asked. She lives in Los Angeles, and I knew it would sound so much better if she and I were in the same room instead of recording it on Zoom or the phone. I asked Carol if we could meet and talk in person if I flew to Los Angeles. Carol agreed, offering her house as a recording location. I've never said yes more quickly in my entire life! Luckily for me, I had a gig in Las Vegas, so it was easy to catch a flight to Los Angeles right after. 
These plans were in motion when I was still cruising and as soon as Rachel Bay Jones heard, we had to drive from the airport to Carol Burnett's house, she asked (and by "asked," I mean begged) if she could drive us there. Turns out, like us (like everyone?), Rachel is a huge fan of Carol Burnett. Of course we said yes to her very kind offer (we needed a ride anyway).
The day after my Vegas show at the Smith Center, James and I flew out to La La Land! Rachel was parked outside and met us at her car in a full chauffeur costume. Rachel had combed through her wardrobe and found a black suit. She wanted to look like she was a professional driver picking us up. To complete the image, Rachel downloaded the app that drivers put on iPads so they can hold your name up at the Arrivals terminal. Rachel was waiting for us, holding an iPad that said Still Got It. It was so hilarious and impressive that she committed to that outfit for the rest of the day for a 10-second joke. Brava!
We preserved the laughs, taking a video of the entire thing. Check it out! 
Carol could not have been more gracious. 
We had no idea how long we would be at Carol's house. We ended up talking for hours. I wound up not only recording a segment with Carol, but also an entire radio show! On top of that, James and Rachel filmed us from two different angles. Look out for a David Katz-edited video of our recording posted soon! 
Rachel told Carol how much she loved the "family" sketches on The Carol Burnett Show. Rachel loved how real the characters were, how heartbreaking and how funny. She feels the sketches really taught her about impactful acting and the intersection of comedy and drama.
Here's just one amazing episode that really showcases what Rachel noticed.  
As we spent the day with Carol, she told so many incredible stories. Here's a retelling of one of my favorites.
When Carol first got to New York City, she lived in a theatrical boarding house for women affectionately called, "The Rehearsal Club." Though housing was specifically for young women in show business, Carol couldn't quite get a gig in entertainment. At the time, agents would only agree to represent her if they could see her in a show. And she wasn't able to book a show without an agent. What a pickle! 
One rainy Saturday, the other girls in the "club" were out on dates, and Carol was looking for jobs in the paper. She saw an advertisement for The Pajama Game starring John Raitt, Janis Paige, Carol Haney, and Eddie Foy Jr. Now, when Carol was growing up, she lived in an apartment building in California. One of her neighbors had done a film with Eddie Foy,  a man who did a film with Eddie Foy Jr. and had told Carol how nice he was. In that moment, Carol decided that Eddie was her ticket to the stage! 
Carol put on her plastic raincoat and galoshes and went to the St. James Theatre, arriving just before midnight. She told the stage doorman that she wanted to speak to Eddie. Suddenly Carol heard what she thought was a clap of thunder. Turns out, it was applause. The show was ending. This was her chance!
Eventually, Eddie Foy Jr. appeared. Carol started babbling that she was from Los Angeles, had known Jack Shea, heard Eddie was a nice guy, and wanted to get into show business. As she rambled, she told Eddie that she was frustrated because she needed an agent to book a show, but knew her lack of work wasn't giving agents any motivation to work with her. She didn't have any work and she didn't have an agent. She needed both.
Eddie asked her if she could sing. Laughing, she said "I'm loud." Eddie asked if she could dance. She said she could jitterbug. Kindly, Eddie said he thought he could get her an audition for a position in the chorus of the show. Carol thanked him, reluctantly saying that she didn't think she had enough skills for the chorus and would be better suited for a featured role. Looking back, she can't believe her chutzpah! 
Remarkably, Eddie actually understood this because he too was a character actor who didn't necessarily sing or dance well. Eddie gave Carol his agent's name and contact information. When she finally was able to meet with Eddie's agent, toting her scrapbook full of reviews from her time at UCLA, he gave her the same response she'd heard so many times before: When she was in a show, he'd come and see it. 
Nearly at her wit's end, Carol expressed again that she found it impossible to book something without an agent. Without missing a beat, he said, "Go put on your own show, then." 
That was the direction Carol needed! 
Back at The Rehearsal Club, Carol called a meeting with all the other residents and told them they were going to put on a show themselves. Together, they wrote the first act and presented it to the very wealthy sponsor for their building. Luckily, the sponsor loved it, giving them $200 to rent the Carl Fischer Concert Hall for their performance. 
Invigorated, the artists finished writing their show, sending out penny postcards to every agent, producer, and director in town. Amazingly, the house was packed for two nights. Three of the performers, including Carol, got agents. Incredible. Carol Burnett created the showcase! 
Let's talk about Hal Prince's The Pajama Game, the first show he produced. This story is also a bit of a sneak peak into some of the history I include in my forthcoming Musical Theatre For Dummies. 
Back in the '50s, Hal was a stage manager for the legendary director/producer George Abbot. One day, Hal's friend and coworker Bobby Griffith called him to tell him about a review of the book Seven and a Half Cents, thinking it would make a great musical.  
Curious, Hal read both the review and the book all before lunch. He was so inspired, he called the rights holder to ask permission to turn it into a Broadway musical. Skeptical, the rights holder asked why he should give them up to two young theatre workers who had never produced on Broadway before. Hal confidently told him that he could get George Abbot to direct. 
Even though another more accomplished producer was interested in the work, Hal and Bobby won the rights. OK, now Hal had the challenge of following through with his promise to convince George Abbot to direct. Yikes! 
At first, George said no. Hal had to think of how he could sweeten the deal. On second conversation, George stipulated he would do it on one condition. If Hal could get the composer, lyricist, and all the designers, he would sign on as the director. 
First, Hal and Bobby approached Frank Loesser to write the score, but Frank said he was too busy. Frank didn't leave them totally lost, though, recommending the young composing team of Richard Adler and Jerry Ross. Hal then approached Jerome Robbins to choreograph. But Robbins, wanting to start directing for Broadway as well, said he'd only do it if he could co-direct. Hal and Bobby were certain Abbot wouldn't go for co-directing. They were stuck. 
When asking around about other available choreographers, Hal's friend Joan McCracken recommended her husband, the then up-and-coming choreographer Bob Fosse. Hal and Bobby hired Fosse. Before they could feel too accomplished, Abbot asked what had happened to Robbins as choreographer. Reluctantly, Hal told him that Robbins wanted to co-direct. Can you imagine how shocked Hal was when Abbot told him he could say yes? Apparently, Abbot said, "Give it to Jerome. Everyone will know who really directed it!" 
Robbins signed on as co-director and even helped Fosse a little with some of the choreography. There you have it. Hal Prince was responsible for getting Jerome Robbins to co-direct his first musical and for Bob Fosse to choreograph his first Broadway show: The Pajama Game. This is why he's in the history books! Even at the very beginning of his career, he was shaping Broadway as we know it. Talk about a reason why there should be a Broadway theatre emblazoned with his name. In fact, Carol has suggested that the theatre that could be renamed in his honor is also where The Pajama Game first performed and where she got the key to her big break: the St. James. Makes sense to me! Now, theatre owners, what is the hold up?
Here is a number from The Pajama Game, which is classic Fosse. 
Speaking of Fosse, I'll be with the Fosse dancer and belter extraordinaire Chita Rivera at NJPAC on Saturday March 25th. 
Here she is doing her unmistakable Fosse thing.
Peace out!